Jan 21, 2022 10:45 am
Image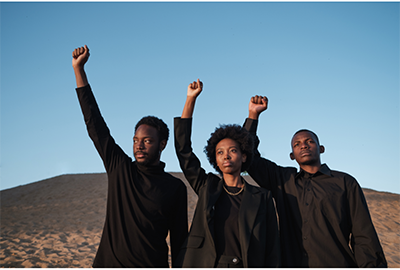 Black History Month is an annual national observance during the month of February, and we honor and celebrate the beauty of Black, African American, and African Peoples at our college, region, and nation. Black history is American history and therefore it's a critical part of our nation's history that we should celebrate and acknowledge every day. 
During this month, we will also center the lived experiences of Black queer people who continue to face systemic injustice, discrimination and victimization. We salute our Black queer activist such as Simone Bell, Marsha P. Johnson and Bayard Rustin. Black people are and have always been a people of excellence and ingenuity who have had a major impact on contemporary culture, and our world. From the inventive spirit of Madam C.J. Walker, the profound scholarship of Angela Davis, and an even more contemporary change maker, the late Virgil Abloh. Their excellence, brilliance and influence have created room and space for Black people today to continue to cultivate a culture of excellence and empowerment.
To honor Black History Month, Pierce College students, staff and faculty are invited to participate in the EDI CARES Black Excellence Celebration on Friday, Feb. 25, from 1-5 p.m. in Pierce College Fort Steilacoom's Cascade Building Performance Lounge. This will be a hybrid event.
This year's celebration will commemorate Black History Month, and celebrate the diversity, ingenuity, talents and brilliance of Black people across the diaspora. Black people are a people of community, innovation, and resourcefulness, and we wanted to showcase the diversity of Black excellence in our local community, and throughout the state. This year's event will focus on learning about the Black experience and how to navigate life and work from local Black leaders, entrepreneurs, and social activists in our community.
This event will feature surprise musical performances, a panel of esteemed Black heroes and sheroes from diverse industries such as education, government, and entrepreneurship to share inspiring stories about finding and cultivating their Black excellence. The event will conclude with community building and a Black vendor fair mirroring Black Wall Street in the atrium area of the Student Life Lounge, featuring some of the most prominent Black businesses, as well as key resources in our community. Some of our vendors include Noir Lux Candle Company, Intentions Juice & Smoothie Bar, and more.
This event is only open to Pierce College students, staff and faculty!