Oct 19, 2018 11:54 am
Image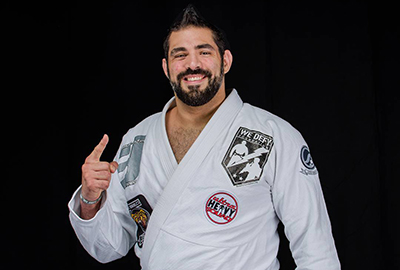 For two-time Brazilian Jiu-Jitsu World Champion James Foster, failure has never been an option – in any area of his life. The Pierce College alum may have already accomplished what many martial artists strive for, but he has no plans to slow down any time soon.
Few martial artists are lucky enough to win the Brazilian Jiu-Jitsu World Master Championships – much less win more than once. Foster won the tournament for the first time in 2015 after competing in four matches. This year, he was named World Champion after competing in five matches against experienced, accomplished Black Belt opponents. "It is very surreal to win twice," he said. "It's like capturing lightning in a bottle. I always think that win or lose, it will be a great experience that will help me continue to grow as a martial artist."
As a third-degree Black Belt, Foster shares his expertise with more than 300 students of all skill levels at Foster Brazilian Jiu-Jitsu (FBJJ). He opened FBJJ in 2007, offering classes for both adults and children. Although his students train for many different reasons — to become a better competitor, to learn a new hobby, or even to learn self-defense techniques — Foster sees firsthand the impact that martial arts can have on a person's life.
"Training in martial arts can be like therapy," he said. "When we put our uniforms on, we're all the same. I wanted to create a space where people can come and escape from real life for a short time and get what we call 'mat therapy.' I've been able to see so many people improve their lives through training, and that's very fulfilling to me."
Foster does what he can to give back to the community, as well. He works with an organization called We Defy, which offers scholarships to veterans interested in training. "There is something about Brazilian Jiu-Jitsu that really resonates with veterans," Foster said. "Coming from the service, they're used to structure, camaraderie, rank, and all these things are mirrored at a Brazilian Jiu-Jitsu school."
He also participates in charity events and seminars designed to raise money for a variety of causes. "I love seeing how people use Brazilian Jiu-Jitsu to improve their own lives and the lives of others," he said. "Not only the students I teach, but also the charities I work with. Having the ability to help others makes me happy."
Foster was homeschooled from first grade through high school, and earned his GED and associate degree from Pierce College.
He graduated with an associate degree in digital design, and still uses many of those skills in his business today. "It was such a great experience being able to get a glimpse into areas like photography, graphic design and web design," he said.
His mother finished her own high school diploma at the same time, and the two were able to share the experience of graduating together. "That was such a special experience to be able to share with my mom," he said. "Graduation was even better having her there."
Foster also spent nearly five years working at Pierce College, managing the first Student Multimedia Center at Fort Steilacoom. "This was a new facility at the time, a bit out of the way with access to lots of expensive equipment," said Director of Marketing and Communications Brian Benedetti, Foster's supervisor at the time. "It became a creative hangout for students, but I never had to worry about things getting out of control. He was fun, very helpful and the nicest guy. And nobody messed with Big James!"