Dec 05, 2018 4:52 pm
Image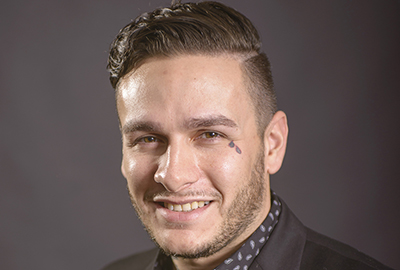 Growing up in a single-parent household filled with drug addiction, poverty and abuse, Raymond Power spent much of his childhood searching for a sense of family that was missing in his own life. With no role models to show him what it meant to be successful, he dropped out of school in 8th grade.
"It was not a good life," Power said. "I ended up joining a gang because of the camaraderie and friendship I thought I had found with them. They fed me and took care of me when no one else would."
This false sense of family led him to a fateful moment that landed him in prison for a year. "I was on a crazy, whirlwind path of self-destruction," he said. "I ended up in a fight and was shot four times," he said.
After his release from prison, Power struggled to assimilate. "I felt like I had no real plan, and nothing to look forward to," he said. "I ended up right back where I didn't want to be."
It wasn't until he met his wife that he decided to make a real change. He found a renewed sense of purpose after their first son was born in 2012.
Thanks to a program by Goodwill, Power found the GED program at Tacoma Community College, and completed the requirements in a week. "I did so well that my teacher told me I should think about going to college," he said. "I had never considered college as an option, but I was doing so well that I had to keep going."
Power took a leap of faith and enrolled in the Facility Maintenance Engineering program at Bates Technical College. "I was doing well and earning great grades," Power said.
After graduating from Bates, he struggled to find a fulfilling job that helped him support his family. His criminal history and visible tattoos presented more of an obstacle than he had hoped. "I wanted a new life so badly, but it didn't come fast enough," he said. "I was clean, but I was also very depressed."
By the time he and his wife were expecting their second child, he knew he had to pick himself up and begin working toward his goals. "I wanted to show my kids that anything is possible if they work hard enough," he said. "I wanted to be a good example to them."
Power wanted to pursue a career that would allow him to make a difference, and help those with similar backgrounds find success. He found Pierce College's Social Service/Mental Health program and enrolled with enthusiasm. "I knew right away that Pierce College was the right choice," he said. "I felt so welcome right away. People didn't judge or discriminate against me because of my tattoos."
He found a sense of belonging at Pierce College, and joined Student Government as a legislative senator. This year, Power serves as president. "This position allows me to help other people in my position and serve students," he said. "It's really built my confidence and allowed me to become somebody I never thought I had a chance of being."
Power also discovered his love of acting at Pierce College, thanks to a class with Prof. Patrick Daugherty. "He helped me find my passion," Power said. "I found everything here at Pierce College. My education, my passion, my mentors, and it means so much to me."
Power admits that not everyone from his background is lucky enough to receive a second chance. He's making it his mission to reach out to people who struggle in the same ways he once did. "Sometimes you have survivor's guilt, because a lot of people where I grew up didn't make it out of their situation," Power said. "But if I'm going to succeed, I'm going to reach back and help other people see that education can change lives. It gave me the second chance I needed to make a good life for myself and my family."
Power is on track to receive his certificate in social service/mental health, along with a transferable associate degree from Pierce College. He plans to continue his education and pursue a career working with at-risk youth, sharing his story and serving as a role model. "When at-risk youth see someone like them succeeding, it gives them hope," he said. "If more people from the neighborhood came back to be that example, it could make a big difference. This is something I'm very passionate about."