January 10, 2018 2:36 pm
During a special event on Jan. 9, the college community gathered to celebrate the installation of a new time capsule to be opened in 25 years. The time capsule was installed behind a plaque inside Pierce College Puyallup's Gaspard Administration Building Atrium.
Chancellor Michele Johnson showed the audience a number of items to be included in the time capsule, such as photographs of the college's executive team and student leadership teams from each campus. Other items included are a collection of predictions for the future, written by students throughout the district.
Copies of articles about Pierce College published in both local and national publications were also included, such as the Seattle Times, Tacoma's News Tribune, and even Time Magazine.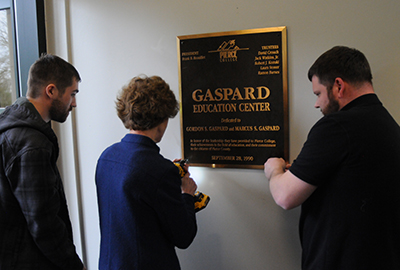 Photographs of Pierce College campuses and extension sites were also included, as well as items commemorating the college's 50th anniversary. Copies of student newspapers on each campus were also included. Screen shots of the college's social media accounts on Facebook, Twitter and Instagram will also be placed in the time capsule, along with a quarterly Possibilities bulletin with information about current academic courses and Community and Continuing Education offerings for lifelong learners.
The Pierce College community 25 years from now will also have the opportunity to read through a current local newspaper, and have fun with the technology and trends of today, such as an old iPhone, a compact disc and the ever-popular fidget spinner!