Please Sign In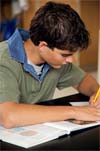 When you come in to either location, please take a moment to sign in to the tracking system. You can do this by entering you student identification number or a name, or by scanning your Student Identification Card. It is equally important to sign out of the tracking system when tutoring has been completed. Signing in and out of the tracking system is critical in collecting data in order to recognize patterns and trends so that sufficient staffing of the center is provided.
Drop-In Tutoring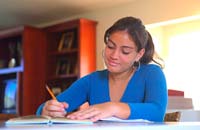 If you are seeking drop-in tutoring, you may simply let the receptionist know that you need help with your work and then have a seat at any one of the available tables located in the center. Once you are settled and your materials are ready and accessible, you can either set to work until you have a question, or you can signal a tutor who can assist you immediately.
If your are seeking subject-specific tutoring or group tutoring, you will need to consult with the receptionist or the tutoring center director. You may be asked to complete an information card if seeking individualized, one-on-one tutoring so that scheduled compatibility can be considered in identifying a tutor. Group tutoring will be established at the discretion of the tutoring director based on consensus and mutually agreeable schedules.