Makerspace Hours and Location
Image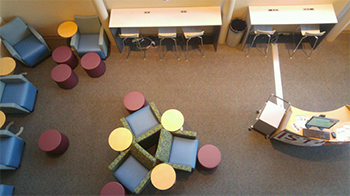 Hours
Fall–Spring Quarters:
M–Th: 9 a.m. to 2 p.m.
Summer Quarter:
Closed
Where Is the Makerspace?
The Fort Steilacoom campus has a Makerspace on the first floor of the Olympic building foyer (O101) under the coffee cart.
What Is the Makerspace?
Image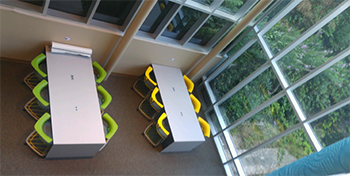 The Pierce College Makerspace is a place for students to apply the knowledge they gain in their education to new skills in design, art and technology. Test out cutting edge technology with our brand new laser cutter/engraver, or create the latest fashion with a sewing machine and vinyl cutter. We have 3D printers and many other hand tools and supplies students can use to bring their own ideas to life.
How Canvas is Used for the Makerspace
We use Canvas for just about everything when it comes to learning about equipment, sharing ideas, booking equipment, safety, and so much more. The main purpose of our space is to ensure that our machines have easy to use instructions and videos for our students to be safe while participating in the space. Each machine will have an instruction card with basic usability instructions. In addition to the cards, the Canvas site will have detailed videos and instructions to help inspire ideas and gain comfort with the machines. Each machine's module will also include safety guides. We require that you read and understand how to use the machines in a safe manner and understand the risks that are involved with each machine.
We have discussion boards available to ask our community questions, solicit feedback, and to brag about your work. We encourage collaboration in these spaces, so if you know the answer, feel free to contribute. We just ask that you are respectful and considerate to the learning process of your peers.