Student Technology Assistance Team (STAT)
I Need Tech Help, STAT!
The Student Technology Assistance Team (STAT) is here for you. Team members are available to help students with questions about wi-fi, Canvas, email and basic operations. A STAT member is always in room 272 in the College Center building in Puyallup, and room 301 in the Olympic building on the Fort Steilacoom campus. Drop by during college hours to find a STAT team member.
STAT stations inside the Libraries at both campuses are active all quarter long. STAT stations near Welcome Centers and Student Life offices are open for the first three weeks of every quarter. A STAT member can also be found in the Open Computer Labs on both campuses during all open hours.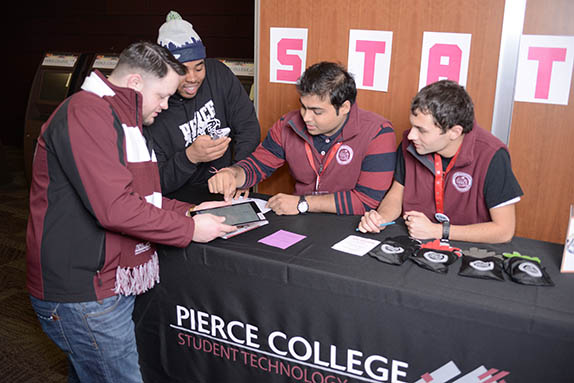 Short PDF Tutorials
These short tutorials provided by STAT members offer immediate assistance with a variety of technology issues. You'll learn how to insert and move an image in Microsoft Word, change the default audio device to the headset, and many other useful tips and tricks.
How to Use PaperCut to Print [PDF]
How to install Microsoft Office 365 [PDF]
How to Insert/Move an Image in WORD [PDF]
How to Change from Double to Single-sided Printing [PDF]
How to Take a Screenshot of the Computer Screen [PDF]
How to Print a PDF when Printing it is Problematic [PDF]
How to Convert an Apple PAGES doc to a MS WORD doc [PDF]
How to Upload a Video from iPhone/Android [PDF]
How to Scan Using OCR (Optical Character Recognition) [PDF]
How to Change the Printer from BW to Color [PDF]
How to Use the Printer Bypass Tray [PDF]
How to Create Headers and Footers in WORD [PDF]
How to Make a Headset the Default Audio Device [PDF]
How to Animate Clipart in PowerPoint [PDF]
Short Video Tutorials