Fort Steilacoom
Image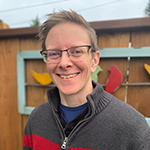 Megan Irby, LMHC
Master of Science in Counseling Psychology
Licensed Mental Health Counselor in Washington State
My name is Megan Irby. I am a Licensed Mental Health Counselor in the state of Washington and graduated with my Masters in Counseling Psychology from Lewis & Clark College. I have over 15 years of social service, advocacy and counseling experience. I have worked or volunteered with various populations dealing with a range of issues including sexual assault, domestic violence, severe and persistent mental health, addiction and case management. I also have experience working with LGBTQ+ communities related to sexual and gender identities. I work to approach every student with a lens of cultural humility and interest in how intersecting identities influence your daily life. Prior to coming to Pierce College, I worked in non-profit and community-based settings.
My clinical approach is person centered, strength-based and solution-focused in nature. I enjoy meeting people where they are and helping them get to where they wish to be in terms of emotional, spiritual and psychological health. I believe everyone comes in with a broad range of strengths and insights while my role is to help identify, explore and bring these out in a non-judgmental and therapeutic setting. My primary desire at Pierce College is to provide support and increase skills for students to be successful in meeting their educational and personal goals.
Puyallup
Jennifer Wright, M.S., LMHC, NCC
Master of Science in Mental Health Counseling
Licensed Mental Health Counselor in Washington State
National Certified Counselor
My name is Jennifer Wright and I am a Licensed Mental Health Counselor (LMHC) in Washington State. I began my counseling career working in a community mental health agency with adults struggling in addiction. More recently I have worked in non-profit agencies predominantly with active duty military and veterans that were in a state of transition.
My theoretical orientation is both solution-focused and person centered, meaning, the work I do is goal-directed and collaborative in its approach. I like to look at a person's strengths as well as connect with them in a therapeutic way that will help facilitate the work we do together. The ultimate goal is to help someone reach their desired outcome of living the life they envision. My main interest and desire here at Pierce College is to help students cope with life's difficulties and to learn the necessary skills to keep them focused on their educational and career goals.