Pierce College Residence Hall Frequently Asked Questions
For complete information on the Pierce College Residence Hall — Center for Global Scholars (CGS) see the Pierce College Residence Hall web page, Housing Agreement, and Community Standards (Housing Agreement Appendix A).
How Do I Apply?
Email residencelife@pierce.ctc.edu to request a Housing Application.
Who is Eligible?
Students who have been accepted into the college and maintain their status as a registered student (6 credits or more) and with good academic standing; or lived in CGS during the Spring Quarter and have applied to live in College Housing for the next academic year. Students who are under academic concern or alert as outlined, may be required to meet regularly with academic support teams to maintain housing status; or,
Student is an International student in valid F-1 visa status; AND who has applied for Optional Practical Training (OPT) within 1 month (30 days) of graduation with the Pierce Colleges DSO Officer or SEVIS and Immigration Manager staylor@pierce.ctc.edu; and, is in pending status or has been approved for OPT and is compliant all OPT related rules and regulations. Students who are not in OPT pending or approved OPT status, are no longer eligible 30 days from day of denial notice.
And;
Student is 18 years of age or will become 18 years of age within their 3 quarter occupancy term; 17 years old are welcome to apply.
And;
Student has not been previously suspended or dismissed from the college under the student code of conduct, dismissed or evicted from CGS or other campus housing program for violations of agreement, or filed unlawful detainer action against me.
Is There a Deposit?
There is no deposit. Applicants must pay a one-time $300 application fee. Students are responsible for any damages to their room beyond normal wear and tear. Students are also responsible for cleaning their room at move out. Room cleaning expectations and procedures are provided before check out. Any damages and cleaning fees will be placed on the student's Pierce College account and must be paid within 30 days of invoicing.
How Do I Make Housing Payments? When Are Payments Due?
Students can pay their housing payment via the online link provided at the bottom of their quarterly housing invoice or at the Pierce College Cashiers Office. Financial Aid and scholarships can be applied toward payment of the Residence Hall. Payment plans are also available. For more information about payment due dates, payment types and payment methods, see the Housing Agreement Payments section.
Do I Need to Move Out During College Breaks?
Students can stay over winter break for a one-time fee. Students can stay over spring break for no additional cost. All students must move out during the 2 ½ week summer building closure (dates for 2021 are coming soon). For break-related dates and information, see Important Dates on the Pierce College Residence Hall web page.
Where is the Residence Hall Located?
CGS is next to a bus stop and is an 8-minute bus ride or 20-minute bike ride from the Pierce College Fort Steilacoom campus.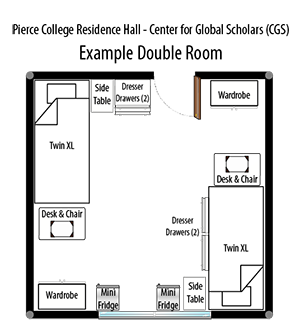 What Types of Rooms are Available?
CGS is a traditional style Residence Hall. CGS has single, double and triple rooms, and a quad room. Double rooms are the most common room type. CGS has male and female halls. Each hall has community bathrooms. Current room rates are on the Pierce College Residence Hall web page. All utilities are included in the room rate.
What Furniture Comes with Each Room?
Twin XL bed (bedding not included), nightstand, wardrobe, dresser, desk and chair, and small personal refrigerator.
What are the Building Amenities?
CGS has a community kitchen, dining room, TV lounge, fitness room, study room, quiet room, laundry room, outdoor BBQ area/courtyards and bike storage. Dishes, pots/pans, and other kitchen type cooking essentials are provided.
What Should I Bring with Me?
Students should bring or purchase upon arriving their own bedding and bathroom supplies, as well as any decorations or items that make their room feel like home. CGS staff take new students on shopping trips during each quarter's move-in week.
Where Can I Purchase Food and Supplies?
CGS is very conveniently located within a 5-minute walk to a grocery store, a pharmacy, a Dollar Store, a Starbucks and local restaurants, as well as a 15-minute bus ride to the Lakewood Town Center with a wider variety of stores and restaurants. A number of food delivery services also deliver to CGS, including Uber Eats, Postmates and GrubHub.
How Do I Access my Room and the Building? Is CGS Safe?
Access to CGS is strictly limited for safety and security purposes. Students have an access key card which gives them 24/7 access to exterior courtyards, exterior building doors and their room.
Is There a Curfew? What Are the Visitation Hours and Guest Policy?
There is no curfew. Each student's access key card gives them 24/7 access to CGS. There are no specific visitation hours; however, students must sign in their guests at the Front Desk between 9 a.m. and 10 p.m. The overnight guest policy is outlined during orientation.
What Are the Community Standards?
To create and uphold an atmosphere conducive to student success, community standards are in place to guide respectful behavior and maintain a productive living/learning environment within CGS. CGS's Community Standards can be found in the Housing Agreement Appendix A. All CGS residents and their guests must adhere to Pierce College's Student Code of Conduct.
What Are the Marijuana, Alcohol and Smoking Restrictions?
CGS is drug and alcohol free environment. Smoking is permitted for students 21 years old and older in designated smoking areas.
Is Cable Provided?
Cable TV is provided in the TV lounge, but not in individual student rooms. Students can bring their own TVs and use streaming services.
Is Internet Provided?
Each room is equipped with its own Wi-Fi router and a wired connection. There is common area Wi-Fi throughout the building.
Is There Onsite Laundry?
CGS has washing machines and dryers in the building that take debit or credit card. Each load costs $1.25 per wash and $1.25 per dry. Students must provide their own laundry supplies (detergent, softener, etc.).
How Do I Receive Mail and Packages?
Students are provided a mail key with their key access card at check in. Mail is placed in CGS resident mailboxes and packages can be picked-up from the CGS Front Desk during Front Desk hours.
What Transportation Options Are Available?
There is a bus stop directly outside of the building and across the street. Students can also easily walk or ride a bike to campus. Uber and Lyft are available in Lakewood. CGS has parking for personal cars.
Is There Parking at CGS?
Campus parking is free with a campus parking permit. CGS has a limited number of parking spaces. A quarterly parking charge may be assessed depending on parking demand. For more information, see the Housing Agreement Charges section.
Can I Change Rooms?
Students can request a room change if space is available. For more information, see the Housing Agreement Room Changes section.
Is the Building Air-Conditioned?
Due to the Pacific Northwest's mild climate, air conditioning is rarely needed. Students are encouraged to purchase fans if needed.
Are Pets Allowed?
Pets are not allowed, except for fish in a tank no larger than 5 gallons. Emotional support animals or service animals need to be requested through Access and Disability Services.