Image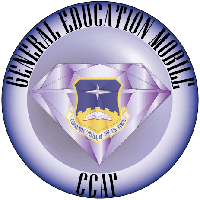 General Education Mobile (GEM)
Pierce College at JBLM is proud to be a GEM-certified school to support the completion of your Community College of the Air Force (CCAF) degree.  Our GEM courses are preapproved to meet CCAF Associate of Applied Science general education degree requirements.
Getting Started
Attend your installation's TA briefing
Apply for tuition assistance (Note: You must apply no later than 7 days prior to the course start date.)
Select Pierce College as your GEM institution when completing the Air Force Tuition Assistance (TA) request process.
Register for GEM-approved courses (after TA approval).
Access your course on the start date
GEM Approved Courses
Distribution Area
Course Number
Course Title
ORAL COMMUNICATION
CMST& 101
CMST& 220
Introduction to Communications
Public Speaking
WRITTEN COMMUNICATION
ENGL& 101
ENGL& 102
ENGL 107
English Composition I
Composition II: Argumentation and Research
Composition III: Writing About Literature
MATHEMATICS
MATH& 107
MATH& 141
MATH& 146
Math in Society
Precalculus I
Introduction to Statistics
SOCIAL SCIENCE
ECON& 201
ECON& 202
GEOG 100
HIST& 128
POLS& 101
POLS& 202
PSYC& 100
PSYC& 200
SOC& 101
SOC 235
Microeconomics
Macroeconomics
Intro to Geography
World Civilizations III
Introduction to Political Science
American Government
General Psychology
Lifespan Psychology
Introduction to Sociology
Race and Ethnicity
HUMANITIES
ART& 100
ART 142
ENGL 210
ENGL 239
HUM& 101
HUM 106
PHIL 150
RUSS& 121
SPAN& 121
SPAN& 122
Art Appreciation
History of Art-Contemporary
Multicultural American Literature
World Literature
Introduction to Humanities
Ethnic Thought and Culture
Intro to Ethics
Russian I
Spanish I
Spanish II
Term Length
Courses at Pierce College JBLM are 9 weeks long. Classes through the other campuses are typically 11 weeks with a shorter 7–8 week summer term.
Cost
Tuition and fees vary slightly depending on campus. You can calculate the cost of your courses on the Tuition and Fees page.
Online Academic Support
A variety of student support services can be accessed through our Student Support Center.
GEM Point of Contacts
For registration questions, please contact Andrea Vonderscheer.
For advising questions, please contact James Lett.