Graphic Standards
What you need to know to use the college logo, symbol and slogan for every occasion.
At Pierce College, it's important share our message with a common voice and with consistent branding. This Style Guide is a reference for all who write and edit documents.
District Letterhead
All documents in MSWord document template format (.dot). Contact College Relations if you need another version.
Powerpoint Templates
Template 1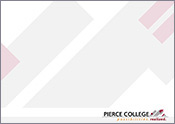 Template 2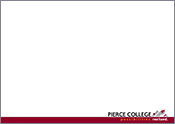 Photo Model Release Form
Use the model release form to get permission from people when you take their pictures for use in college publications.
Mission, Vision, Core Themes and Values Posters
Print your own 8.5x11 file of the Mission, Vision, Core Themes and Values poster. Download poster.
Large color 11x17 prints are available at the print shops at each campus. Pick one up today!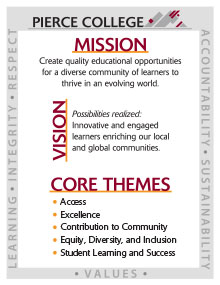 Fax Cover Sheet