The Pierce College Associate Degree in Nursing (ADN) Program was created to provide access for all students, including underrepresented populations.
Image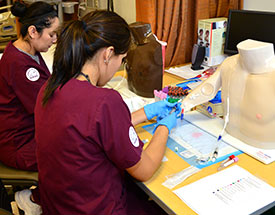 Our admissions process is unique. The Pierce College ADN Program seeks qualified applicants who are committed to the field of Registered Nursing and who can convey the mission, vision and values of the program during the admissions process.
Detailed information about the application process is available on this website at approximately the following times:
Traditional two-year ADN program: Applications available every other spring term, starting Spring 2021.
Full-Time LPN/RN application submission window is August/September.
Part-Time LPN/RN application submission window is January/February.
Detailed instructions will be included on this webpage when it becomes available. It will be updated throughout the upcoming year to adjust dates and reflect other changes that may occur. The application periods and deadlines will be posted on the Nursing department page, and applications will be available/accepted ONLY during those periods.
Admissions to a nursing program requires passing a background check. Before continuing with your application process, please read through the Disqualifying Factors.
The admission process is the same for both the ADN/RN and LPN/RN programs and is a lengthy and intense process broken down into three phases.
Phase I
You will need the following to successfully complete the online application:
Qualification Elements
Online application
ctcLink ID (You must complete college admission or reactivate if not current)
Application fee (paid directly to college cashier)
All waivers (if applicable, and completed with Pre-Nursing Advisor prior to application process. 

This pertains to establishing content equivalency for class/course content taken at all out-of-state colleges, or colleges that are not listed on the

 Course Equivalency chart)

All required and extra point classes may be completed in the term you apply.

Official transcripts from prior colleges attended. (If you met the language requirement in high school, a high school transcript is also required.)
Any additional materials from the checklist
Scored Elements
Professional resume
Personal statement (question provided)
Strong academic achievement in BIOL& 241 (Human A&P 1), BIOL& 242 (Human A&P 2), and BIOL& 260 (Microbiology) may garner extra points
For more details, see the nursing application scoring rubric.
Phase II
After all applications are reviewed, all applicants are notified via e-mail their applicant status. For those who will be moving on to the interview phase, they will be contacted via phone to come in for a group interview.
All applicants who do not move on to the interview phase will have the opportunity to receive feedback on their applications and what they could do to improve their application.
Phase III — For Newly Admitted ADN Students
Applicants who are being offered admissions will receive official notification. A small list of alternates will be established. Prior to the start of the program, incoming students must return a formal acceptance response and attend a mandatory orientation before completing the following:
Immunizations
COVID-19 Vaccine (No exemptions allowed due to clinical partner requirements)
Completed Hepatitis B series (3 injections in all) AND Positive Hep B titer result
Tdap in the last ten years
2-step TB screening (initially) or chest x-ray (if history of positive TB skin test)
Positive Varicella (Chicken Pox) titer or (2) injections
Measles/Mumps/Rubella (2 injections or positive titer) for all 3 diseases
Flu vaccine (Proof of vaccination for current season)
Immunization requirements may change based on CDC guidelines and/or clinical facility policies.
Other Documents
Documentation of current American Heart Association BLS for Healthcare Provider Training (Must include infant and child CPR)

Proof of personal health insurance
Online training modules (as directed by program)
LPN license required for LPN to RN option applicants only
Any additional requirements will be included in the application information
The occupation of RN requires physical strength and stamina. The student may be expected to lift up to 60 pounds and stand for long periods of time. Students will be asked to review and self-attest to a list of common physical, mental and psychological demands of the nursing profession.
It is critical that prospective students communicate with a pre-nursing advisor regularly and keep abreast of changes related to the admissions process by visiting this site often and/or attending monthly information sessions.