Mar 30, 2018 4:48 pm
Image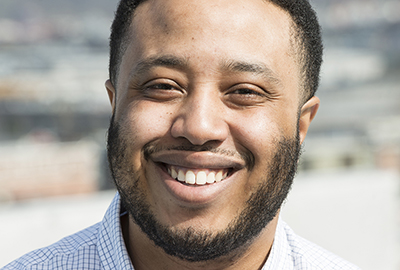 Growing up in an unstable household with few positive role models in his life, Omari Amili had little idea what it meant to truly be successful. His parents suffered from addiction and, as a result, Amili's performance in school suffered. He attended about 15 different schools before eventually dropping out of high school.
"I dealt with a lot of neglect and abandonment, and my values were very distorted growing up," he said. "I thought money was a sign of success, which led me to a life of criminal behavior."
Amili did whatever he could to chase the life he thought he needed, eventually landing in prison on felony charges.
"I thought the money I was making was a sign of success, but instead, it was my path to prison," he said.
After serving 20 months, Amili was released from prison with a commitment to turn his life around and become the role model that he lacked as a child. The father of six enrolled at Pierce College armed with a GED and a goal to create a better life for himself and his family.
"When I walked through the doors at Pierce College, I wasn't seen as a convict or a felon," he said. "I was a college student, and that confidence really helped me grow and see for the first time that I can be successful. My experience at Pierce gave me the motivation I needed to see that I really can do well in school."
He graduated from Pierce College in 2011 with his transferable Associate of Arts degree, and moved on to earn his bachelor's and master's degrees from University of Washington Tacoma.
His ultimate goal was to be in a position to help others who come from similar backgrounds to see their own potential.
"I am formerly incarcerated, and I'm also a college graduate who has seen a level of success," he said. "Some people out there just can't imagine being in this position, but I believe the narrative needs to change. More people need to be vocal about their experiences."
In an effort to help others see their own potential, Amili has released his first book, "Transforming Society's Failure."
He wrote the book to share his own story and to inspire others to follow his lead. "Going to college has allowed me to make a new life for myself," Amili said. "I knew I had to share my story with others who are facing the negative labels and stereotypes that I had to deal with."
Amili has no intention of slowing down any time soon, and plans to ultimately earn his doctorate. "I've been told that I'm just going to be another statistic and that I have nothing to offer society," he said. "It means so much to me to show people that there really are no limits to what you can achieve if you put in the time and effort it takes."
Amili remains active in the community, sharing his story in a variety of speaking engagements sponsored by organizations such as The Seattle Times and universities around the Northwest. Being named a 2018 Distinguished Alum at Pierce College is an honor he never imagined. "This award means so much to me, especially because there are so many people who graduate each year," he said. "It makes me feel validated in everything I've done, and that all this work has been worthwhile."
Pierce College will honor Amili and three other esteemed alumni during the annual Distinguished Alumni celebration and dinner on Thurs., April 12 in Pierce College Puyallup's College Center Building Multipurpose Room. The reception will begin at 5:30 p.m. Tickets are $50, available for purchase by using our online ticketing system.