Student Literary Arts Magazine (SLAM)
Image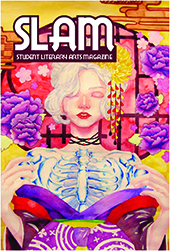 SLAM, the student literary and arts magazine of Pierce College, is an annual publication devoted to showcasing student poetry, prose, drama, artwork, and photography. SLAM, which enjoys a robust press run of 2,000 copies, is free to the public and available at various campus locations.
We accept the best poetry, prose, drama and visual art created by Pierce College students. Submissions are accepted year-round and reviewed in the winter by our editorial board, which includes students, faculty and staff.
SLAM is released annually in May, with a kickoff party and reading. Copies of SLAM are available for free on-campus at both Pierce College Fort Steilacoom and Pierce College Puyallup.