Mar 16, 2018 4:34 pm
Image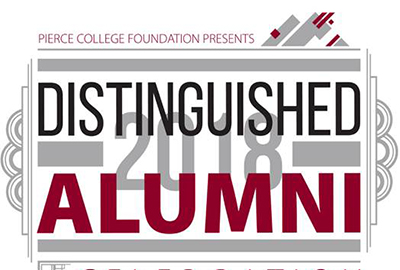 Pierce College is proud to announce the selection of four exceptional former students to honor during this year's Distinguished Alumni celebration. Nominees are carefully selected based on their achievements in academics, business, community or humanitarian support, or personal triumph over adversity. This year's honorees provide inspirational examples of the impact Pierce College can have on students and the community.
Pierce College's 2018 Distinguished Alumni are Omari Amili, author and public speaker; Teresa Burgess, command chief warrant officer for the Washington National Guard; Michael Christianson, chief technology officer for Bethel School District; and Sylvia James, director of fiscal services for Pierce College.
Pierce College will honor these esteemed alumni during a celebratory dinner on Thurs., April 12 in Pierce College Puyallup's College Center Building Multipurpose Room. The reception will begin at 5:30 p.m. Tickets are $50, available for purchase with our online ticketing system.
Meet the 2018 Distinguished Alumni
Omari Amili
Author and public speaker
Growing up with parents who suffered from addiction, Omari Amili had few role models in his life to show him what it means to be successful. Eventually, the path he chose led him to prison, which changed the course of his life. He learned the importance of higher education and its ability to prevent recidivism. After his release, he made it his own personal mission to help others recognize their own potential and transform their lives through education. He ultimately earned his master's in interdisciplinary studies and developed a curriculum for a college prep workshop for formerly incarcerated people.
Teresa Burgess
Command Chief Warrant Officer, Washington National Guard
Teresa Burgess has enjoyed a distinguished career in the United States Army, where she served as Pilot in Command, performing duties of Air Mission Commander, Tactical Operations Officer, instructor and more. Burgess made history in 2008 by serving as the air mission commander of a Blackhawk mission into Baghdad that was completed by eight women. As commander, she was especially proud to be involved in a combat mission that demonstrated the importance of women in the military.
Michael Christianson
Chief Technology Officer, Bethel School District
Michael Christianson is proud to lead a dedicated team of educators and technical staff through the digital revolution in the Bethel School District. His team provides digital learning tools to assist teachers, increase student achievement, engagement and equity. Christianson oversees technology deployment, network and system management, integration, and instructional and technical operations for the district.
Sylvia James
Director of Fiscal Services, Pierce College
Sylvia James began her career at Pierce College as an office assistant in the Facilities and Operations department, before working her way up through the finance department. Today, she serves as the college's Director of Fiscal Services. In her current role, she is responsible for financial risk assessment and remediation, and also advises college leadership on institutional fiscal policies and planning, management and long-range strategic efforts. As a student, she experienced firsthand the impact the Pierce College Foundation can have, as she received a Foundation scholarship when she attended from 2001-2003.