Nov 19, 2019 1:26 pm
Image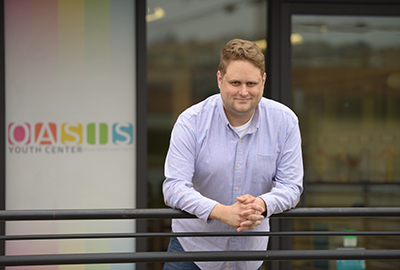 In his role as Interim Executive Director for the Oasis Youth Center, Matthew Wilson is making it his life's work to support Tacoma's LGBTQ youth. Wilson was a member of Oasis as a teenager, and is all too familiar with the struggles many LGBTQ youth face. His sexual orientation was the target of bullies throughout his high school years, before he was even open about his identity with his friends and family. His grades suffered as a result, and he made the decision to move on and take his General Education Development (GED) exam at Pierce College.
After several years of working in retail sales, Wilson began to realize the limited career options he faced without a college degree. "I knew I needed to go back to school," Wilson said. "I enrolled at Pierce College, and it didn't take long to realize I was surrounded by so many cool people and wonderful professors. For so long, I tried to find a place where I would fit in, and I found that welcoming environment at Pierce. I finally had a chance to rewrite my experience of going to school."
At Pierce College, Wilson found a supportive network of friends and professors who were dedicated to helping students succeed. "The professors at Pierce College are really invested in your success," he said. "My time at Pierce College was definitely one of my favorite periods in my life. I felt empowered and excited about my future."
Wilson reconnected with the Oasis Youth Center when he needed an internship for one of his classes. He continued to work at the center after his internship ended, serving as a youth advocate and growing into a number of leadership positions. Today, he serves as the center's Interim Executive Director.
Oasis provides a free, fun and safe place for LGBTQ youth to connect and get to know each other, in addition to a variety of prevention programming, leadership development and advocacy services. Through his work with Oasis, Wilson also has the opportunity to work with school districts to help people gain a better understanding of how to support LGBTQ youth.
"It's such a wonderful opportunity for me to help youth who may have had similar experiences as I had in school," Wilson said. "Many of our youth are going through challenging life situations, but the main reason they want to be a member of Oasis is to help others. Every day, I see how powerful our youth are, and it's a privilege to do the work that I do."