Sep 27, 2021 10:59 am
Image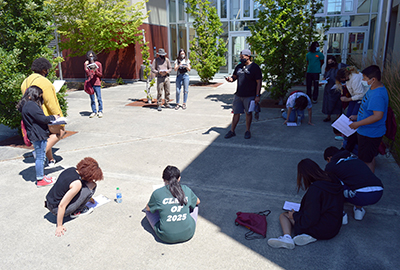 Pierce College EDI CARES launched five different, culturally empowering summer programs to meet the needs of high school age youth in Pierce County. With the onset of COVID-19, and continued systemic inequalities, many students lacked opportunities to participate in in-person learning opportunities where they could have their identities and lived experiences affirmed, and to deeply engage with learning around STEM, and college and career preparation.
These summer programs demonstrate the continued call to be innovative and reimagine education in a way that meets the needs of our most powerful and capable students. The efforts of all the EDI CARES staff demonstrate their unrelenting desire to fulfill the college's mission to provide quality educational opportunities for a diverse community of learners to thrive in an evolving world
In response to the success of their summer programs, EDI CARES was awarded a $40,000 Graduate Tacoma Expanded Learning Opportunity grant to expand summer programs throughout the academic year. A primary focus of the Expanded Learning Opportunity grant was to offer specialized summer programming for BIPOC and low-income students to support their socio-emotional learning.
Learn more about EDI CARES summer access programs:
Transforming Racial Equity through Emerging Scholars (TREES) STEM Summer Program
This camp explores themes of combating racism and environmental injustice; using technology to solve real-world problems; and building skills for lifelong learning and success. Students create technological solutions for social issues; explore local neighborhoods and their history; and discuss how social change happens on a local level.
"We need leaders like our TREES Scholars to shape the future of technology and our society, and it was an honor to be step on their journey to excellence." – Aki Smith, EDI CARES Retention Manager and Gene Kemper, STEM Engagement Specialist
Upward Bound's Wakanda Warriors in the Workforce
This internship program inspires and empowers Clover Park UB high school graduates with career and education exploration opportunities. Students learn how to identify their own unique strengths, research potential career fields, and meet diverse female professionals from a range of careers.
"It was inspiring to see how far our students have come in 4 years of Upward Bound. They are incredibly strong and capable young people and we are so excited to see how they will bring these gifts to their college experience." – Bess Nuland and Jennifer Bradley, EDI CARES Retention Managers
Upward Bound's Warrior's Edge Summer Academy
Students enrolled in the Summer Academy participate in six weeks of culturally relevant, college preparatory, and diverse learning opportunities. This year, students learned Spanish in the context of the history of the United Farm Workers Movement; natural science with a focus on Polynesian Wayfinding and celestial navigation; and participated in culturally integrated math and English classes while being taught by our own Piece College faculty and community partnering educators.
"It was incredible to see our new students come together to form new friendships, build a supportive community and engage learning after such a difficult year." – Bess Nuland and Jennifer Bradley, EDI CARES Retention Managers
VAKA Summer Program
Students explore STEM through the lens of cultural traditional knowledge to better understand their connections to the environment and world around them. Students engage in hands-on, interactive activities around environmental justice, while also developing their college-going skills.
"It was refreshing getting to hold space with students and watch them explore new fields of understanding, connect with new peers and build community here at Pierce." – Kiana Fuega, EDI CARES Community Engagement Specialist
Legacy of Indigenous & Native Knowledge (LINK) Summer Program
This summer program engages youth in knowledge-building activities centered on Indigenous experiences. Students engage in hands-on learning to explore their cultural identity and world views.
"LINK provided a great opportunity for students to understand their connection to their environment, and each other." – Ashley Good, LINK Retention Mentor