Chancellor Search Update
The Pierce College Board of Trustees has selected Dr. Julie A. Manley White as the next chancellor and CEO of Pierce College District.
Press Release: Pierce College Board of Trustees Announces Selection of Next Chancellor and CEO (November 9, 2022)
Are you dedicated to leading a college committed to equity, diversity, and inclusion? Do you believe that community colleges are the pathway to social and racial justice? Do you believe every student has the ability to succeed with support and elimination of structural barriers? As an institution committed to anti-racism, we are action-oriented and intentional in dismantling every systemic barrier that prevents Black and Brown student excellence and liberation.
The Pierce College District seeks an inclusive, visionary leader and strategic thinker to lead a student-centered, mission-driven community college district dedicated to ensuring all our students thrive and reach their fullest potential. Reporting to the Washington state Governor-appointed Pierce College Board of Trustees, the successful candidate must demonstrate the talent, energy, and wisdom to lead Pierce College's executive leadership throughout the district to achieve institutional outcomes; and to advocate for resources in a community where relationships with key stakeholders are strong.
Finalists
The Pierce College Board of Trustees is pleased to announce the selection of three finalists for the Chancellor and CEO position at Pierce College. The Board is pleased with the quality and experience of the finalists and look forward to meeting them on campus.
Julie A. Manley White, Ph.D.
Image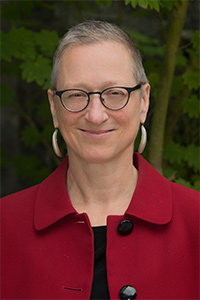 Julie A. Manley White, Ph.D., has served as president of Pierce College Fort Steilacoom since 2019, providing transformational and collaborative leadership for the college, Pierce College at JBLM, and educational programs at Western State Hospital and the Special Commitment Center. White is proud to advocate locally, statewide, and nationally for resources and partnerships to support students and employees.
As a first-generation student from a rural community, Dr. White understands the life-changing power of higher education.  She believes that community colleges are the best institutions we have for transforming lives, advancing racial and social justice, and creating vibrant, healthier, and more equitable communities.
White has served at a variety of institutions, including community colleges, liberal arts colleges, and research universities, with roles in student services, academic administration, research administration, health education, and women's services. She has a Ph.D. in Educational Leadership from University of Rochester; a Master in Education in Counseling from Xavier University, and a B.S. in Education in English Literature from Miami University.
About Pierce College
The Pierce College District
Pierce College is a high-performing, mission-driven, data-informed, student-focused district committed to equity, diversity, and inclusion. The district has had a history of stable, long-term leadership at the top of the institution.
Press Release: Pierce College Chancellor Michele Johnson, Ph.D., announces retirement after distinguished 45-year career (January 6, 2022)
For over 50 years, Pierce College has developed a national reputation for academic excellence and support services to ensure student success. The district is proud of the many awards and recognitions it has received. Pierce College is an Achieving the Dream Leader College of Distinction and was the 2017 recipient of their prestigious Leah Meyer Austin Award, given for showing measurable improvements in student outcomes.
Pierce College was named one of the top 10 best community colleges in the nation in 2021 by the prestigious Aspen Institute. The Aspen Institute has recognized Pierce College for several years for exceptional achievements in several areas, including student learning; certificate and degree completion while in community college and after transferring to a four-year institution; employment and earnings rates after graduation; and access for and success of minority and low-income students. Pierce is also one of 30 original AACC Guided Pathways colleges and one of the first five College Spark Washington pathways colleges.
The district includes two comprehensive community colleges and a far-reaching extended learning program. Pierce College Fort Steilacoom is located in Lakewood, Washington, in the west end of the service district. Pierce College Puyallup is located in Puyallup, Washington, and serves eastern Pierce County. Pierce College Extended Learning has a vast array of sites and services, including major education centers at Joint Base Lewis McChord, a state mental hospital, and additional continuing education and training program sites.
The Pierce College District offers programs that include:
Associate degrees and transfer courses parallel to the first two years of university and four-year college work
Professional/Technical degree and certificate programs for training or retraining in a variety of career fields
Bachelor of Applied Science degrees
Developmental, basic skills, high school completion, GED, and English-as-a-Second Language courses
Personal and professional development through continuing education courses
Traditional and nontraditional learning opportunities including a growing online, elearning program
Image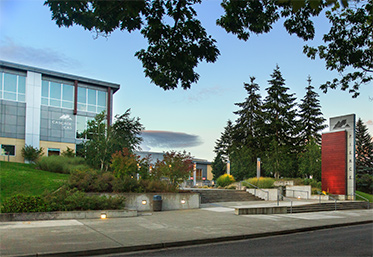 Image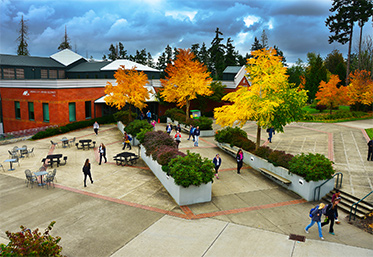 Pierce College Fort Steilacoom (left) and Pierce College Puyallup (right)
Pierce County: An Amazing Place to Call Home
Pierce County stands out as one of the most beautiful and livable areas in the United States, offering its citizens the benefits of both rural and urban life in the Pacific Northwest. Both campuses command views of majestic Mount Rainier. The area's moderate climate, along with nearby mountains, forests, rivers, the Puget Sound, and Pacific Ocean, provide for many outdoor activities including hiking, skiing, kayaking, beach combing, biking, and golfing. At the same time, most of Pierce County is only minutes away from Tacoma or a short drive to Seattle where world-class cultural, arts, shopping and sporting activities abound. The area boasts an amazing array of housing options from urban condos to rural acreage and everything in between. And in Pierce County, real estate remains relatively affordable. Located in the heart of one of America's most amazing areas, Pierce County is a wonderful place to call home.
The Chancellor Position
Title: Chancellor and CEO, Pierce College District
Salary: Depends on qualifications.
Opening Date: Open now.
Closing Date: Open until filled, with a first review date of August 8, 2022.
Essential Functions
As Chancellor and Chief Executive Officer, lead the college district in becoming an anti-racist institution and achieving its institutional outcomes through providing visionary leadership in all areas, including: strategic planning and management; financial stewardship; community, legislative, and external constituent relations; educational planning; and personnel, labor, and internal constituent relations. Reports to and partners with the college district's Board of Trustees; updates the Board on operations, carries out the Board's policies to fulfill mission, and seeks guidance from the Board on important matters when necessary.
Chancellor's Profile
Attributes and Characteristics
Leadership and Vision
Is committed to, articulates clearly, and advances the mission of Pierce College on campus, in the community, and while leading the district's executive team.
Exhibits sound, visionary educational leadership.
Acts and leads with integrity.
Solves problems with a willingness to make tough decisions.
Equity, Diversity, and Inclusion
Is culturally-responsive in leading and communicating the vision, mission, core themes, and values of Pierce College.
Collaborates to advance the college as a leader in equity, diversity, and inclusion.
Promotes educational access, retention, and completion of all students, centering on those who have historically been marginalized.
Strategy and Planning
Demonstrates leadership in effective campus planning, budgeting, and continuous improvement processes in the context of a district strategic vision.
Ensures the college's engagement in institutional effectiveness to meet its mission.
Supports and implements the Master Facilities Plan for the district.
Policies and Practices
Applies fiscal responsibility with the acumen to lead a collaborative budget process that blends campus and district outcomes.
Develops and supports resources, such as grants and fundraising, to advance the college district.
Leads and promotes policies and practices that improve efficiency and furthers the district's commitment to its mission.
Engagement, Communication, and Collaboration
Possesses strong oral, written, and listening skills.
Uses outstanding interpersonal skills as an advocate, successful team builder, and executive leader on campus, in the community, within the state, and across the nation.
Collaborates as a team member and as an effective partner, working successfully with faculty, students, and other internal constituents.
Fosters positive and collaborative working relationships with labor unions.
Ensures faculty, staff, and student engagement in college shared governance and decision-making processes.
Leads partnerships with business/industry, educational, legislative, governmental, and other community agencies.
Promotes the college in the community and fosters positive community relations though active participation in community events and activities.
Teaching and Learning
Is committed to a teaching and learning process focused on student learning and success.
Stimulates and encourages creativity, resulting in cutting-edge programs.
Implements and supports the principles, strategies, and practices of a comprehensive guided-pathways model.
Is committed to a comprehensive employee learning and development program.
Data and Technology
Understands, evaluates, and uses complex data sets that include national research on student access, retention, completion, and guided pathways.
Evaluates and uses campus-based data, such as course and degree completion, student achievement gaps, and student success strategies, to make informed decisions.
Promotes the use of existing and emerging technologies in teaching and college operations.
Image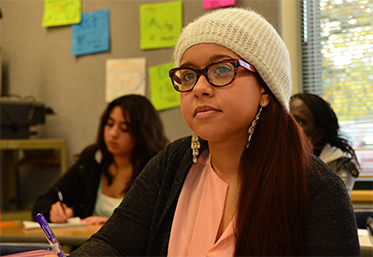 Image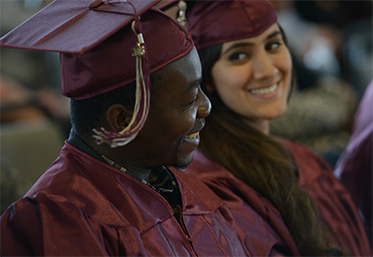 Qualifications
Credentials
Earned doctorate strongly preferred; Master's degree required.
Minimum of ten (10) years' experience working in higher education, including at least five (5) years of executive leadership experience required. Non-educational experience may substitute; please describe your experience and its relevancy in your application materials.
Application Process
Applications have been received and evaluated by the Board and chancellor search committee. Faculty, staff, students and community members are invited to meet the candidates during upcoming open forums that will take place on October 17 - 18, October 20 - 21, and October 24 - 25.
Chancellor Search Committee Members
Steve Smith, Committee Chair and Vice Chair, Pierce College Board of Trustees
Angie Condon, Lakewood community member (and Secretary, Pierce College Foundation Board)
Ann Slaughter, Supervisor/Pedagogical Leader, Garnero Child Development Center, Pierce College Puyallup
Candis Eckert, Ed.D., Associate Professor, Education Programs, Pierce College Fort Steilacoom
Charlie Parker, Interim Vice President for Learning and Student Success, Pierce College Puyallup
Clive Mitchell, Assistant Adjunct Faculty, Pierce College at JBLM
Curt Warmington, English Professor (and PCFT faculty union president), Pierce College Fort Steilacoom
Duncan Stevenson, Director of District Athletics, Pierce College District
Edward (Eddie) Perry, Ph.D., Dean of Natural Sciences, Pierce College District
Frances Davis, President, Pierce College Foundation Board
James Lett, Ed.D., Dean of Student Success: Holistic Supports, Pierce College District
Kathryn Metzger, Student Success Coach, Pierce College at JBLM
Kelly Gardner, Administrative Assistant, Library and Learning Resources (and WPEA classified union representative), Pierce College Fort Steilacoom
Sabine Burghagen, Professor and Chair for English as a Second Language (ESL) & Pierce College Adult Diploma (PCAD), English, Pierce College Puyallup
Sylvia James, Vice President, Administrative Services, Pierce College District
Therese Ngo Pasquier, Member, Pierce College Board of Trustees
Violet Niusulu, Credentials Evaluator 3, Pierce College Fort Steilacoom
Yael Hensen Anaya, President, Associated Students of Pierce College Fort Steilacoom
Image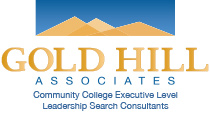 Assisted by Gold Hill Associates, a community college executive leadership search firm. For additional information about the search, please visit the Gold Hill Associates website.
Equal Opportunity
The Pierce College District is an equal opportunity employer. The Board of Trustees and Pierce College District are committed to providing equal opportunity and will not discriminate in terms and conditions of employment and personnel practices. Decisions are made without regard to race, color, national origin, age, perceived or actual physical or mental disability, pregnancy, genetic information, sex, sexual orientation, gender identity, marital status, creed, religion, honorably discharged veteran or military status, or use of a trained guide dog or service animal.
Pierce College Human Resources
Questions regarding equal employment opportunity or discrimination may be directed to the following:
Holly Gorski
Vice President for Human Resources
9401 Farwest Drive SW
Lakewood, Washington 98498
253-964-6519
hgorski@pierce.ctc.edu
Conditions of Employment
Pierce College is a "fully vaccinated campus" under the state's higher education guidance, which means that COVID-19 vaccination (or allowable exemption) will be required for all employees and students. More information can be found here: Vaccination Requirements.
Prior to the start of employment, finalists(s) for this position will be subject to a pre-employment background check as a condition of employment. Information from the background check will not necessarily preclude employment but will be considered in determining the applicant's suitability and competence to perform in the position.
Applicants considered for this position will be required to disclose if they are the subject of any substantiated findings or current investigations related to sexual misconduct at their current employment and past employment. Disclosure is required under Washington State Law RCW 28B.112.
An offer of employment will not carry with it any responsibility or obligation on the part of the District to sponsor an H-1B visa. In compliance with the Immigration Reform and Control Act of 1986, proof of authorization to work in the United States will be required at the time of hire.
Pierce College has adopted a Drug Free Workplace policy. As a condition of employment, employees must agree to abide by the requirements established in that policy.
Applicant Resources