Business Cards
Requests for business cards are taken at any time using the business card request form.
Please complete the form online, then print it and get your supervisor or dean to sign it. Then send two hard copies to:
Contact Tina McGregor at x8494 or CMcGregor@pierce.ctc.edu if you have questions.
Costs for business cards are the responsibility of the requesting division or department. Prices are as follows (shipping included):
250 – $40.50 (plus sales tax)
500 – $81.00 (plus sales tax)
750 – $121.00 (plus sales tax)
1,000 – $161.50 (plus sales tax)
Cards are ordered through the Department of Enterprise Services in Olympia and are processed in about 10 working days after receiving your order.
*All standard business cards include the Pierce College mission statement on the back.
Sample Business Card (front and back)
Image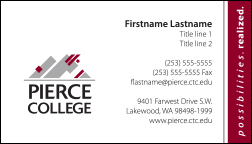 Image