Here at Pierce, we want to make sure no one goes hungry. We know that not all of our students have direct access to food and personal hygiene products here on campus, or at home, so we did something about it. The Food Pantry is a resource for all students who may need it, running entirely on donations from fellow students and our community.
Donations
If you have any donations, please bring them to the front desk in the Office of Student Life (C210) during operating hours (below) or in the donation box in front of our door.
OSL Operating Hours:
Monday through Friday: 8 a.m. - 5 p.m.
How Can You Help End Hunger on Campus?
The pantry runs solely on donations, as our budget cannot be used to stock it. Donations from students like you and community members are what keep the pantry alive. This is where you come in. There will be food in the pantry only if you put it there. When donating, please keep in mind the kinds of foods that would be most beneficial to our students, such as easily-warmed meals, non-perishable foods that can be eaten on the go, utensils, and personal hygiene products.
We are always taking donations to keep the pantry stocked. These high-demand items that would be ideal to donate:
Breakfast
Image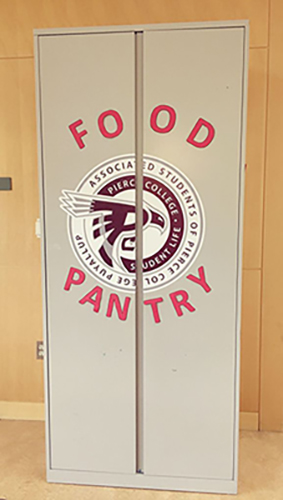 Individual-sized cereal boxes
Cereal bars
Oatmeal
Pop Tarts
Granola
Protein bars
Fruits/Veggies
Canned beans, peas, carrots, etc.
Canned fruits
Fruit cups
Dried fruits
Juice boxes
Lunch/Snacks
Instant noodles/ramen
Instant potatoes
Easy mac
Hamburger helper
Canned tuna/chicken/proteins
Instant pasta
Pudding
Canned soups
Peanut butter
Boxed meals
Microwaveable non-frozen meals
Personal Hygiene Products
Soap
Shampoo/conditioner
Paper towel/toilet paper
Toothbrush/toothpaste
Diapers
Deodorant
Feminine hygiene
Laundry detergent
Misc
Water bottles
Energy bars/drinks
Instant coffee/tea
Utensils! Forks, spoons, microwaveable bowls and cups, etc.
If you are a student who utilizes the food pantry, we would appreciate your suggestions as to what you would like to see more of or any other ways that we could improve this service. Please contact Dina Ketterling at dketterling@pierce.ctc.edu or stop by the Office of Student Life in C210.
Donors for This Year's Food Pantry
Wesley Homes Foundation
Pierce College Foundation
Errolynne Marsh and the Presbyterian Church
Contact