Fort Steilacoom Computer Labs
The Open Computer Labs enable students to work on projects, accomplish computer-related academic assignments through software applications, the Internet and email. All computers in our labs are connected to the Internet and have high-speed laser printers, both B/W and color. Student Technology Assistance TEAM (STAT) members are always available to answer questions, including connecting to Wi-Fi, student email access, printing, using Canvas and much more.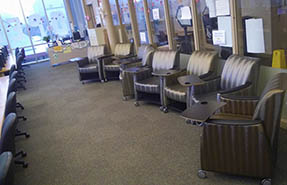 Pierce College student ID cards are required to use this lab, even when using these awesome mobile device friendly chairs graciously donated to the lab by Fort Steilacoom Student Programs.
The primary computer lab is in the Olympic Building, room 301, on the third floor (the floor above the coffee cart). Olympic room 302 (Digital Design Classroom) has 4 Mac computers as well as 28 PCs for general use. It is available whenever a class is not in session. Class times are posted outside the O301 lab.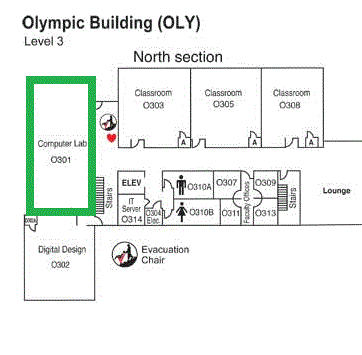 The Design Studio (inside the Library) is also available for general use.
Hours of Operation
Olympic 301/302
This is the main lab and the Digital Design classroom. Note: We are open weekends for your convenience! Technology assistance is available during ALL open hours.
Phone: 253-964-6310
Fall–Spring Quarters
Monday–Thursday: 8 a.m. to 9 p.m.
Friday: 8 a.m. to 5 p.m.
Saturday: 11 a.m. to 5 p.m.
Sunday: 12 p.m. to 5 p.m.
Summer Quarter
Monday–Thursday: 8 a.m. to 9 p.m.
Friday: 8 a.m. to 12 p.m.
Saturday: 11 a.m. to 5 p.m.
Sunday: 12 p.m. to 5 p.m.
Closures
We are closed on national holidays and between school quarters. The computer labs are open for operation during In-Service days and any days that the college is open for business and classes are not in session. Any changes to the schedule will be posted outside the labs.
Help
If a problem arises in a lab or classroom with any of the equipment or software, please contact one of the computer lab employees. The staff is here to assist you and they will notify the proper personnel as needed.